Welcome to The Western Section of The Wildlife Society
ANNOUNCEMENTS:
Western Wildlife, the new journal of The Western Section is now online. Read new articles and learn how to submit your own article.
Be sure to check out the latest Western Section Announcements.
---
Join our Email List!   
Sign up HERE to receive email updates about upcoming workshops, trainings and Western Section news…
---
VOTE FOR PRESIDENT-ELECT:
Voting is now closed.  Results will be announced at the Annual Meeting
66th ANNUAL MEETING  —  February 4-8, 2019   —  Tenaya Lodge at Yosemite.  Fish Camp, CA.
UPCOMING WORKSHOPS:
DIVERSITY COMMITTEE QUESTIONNAIRE:
The Western Section of the Wildlife Society recognizes that human diversity is an asset, both to the organization and to the field. The diversity committee recognizes that diversity stems from not onl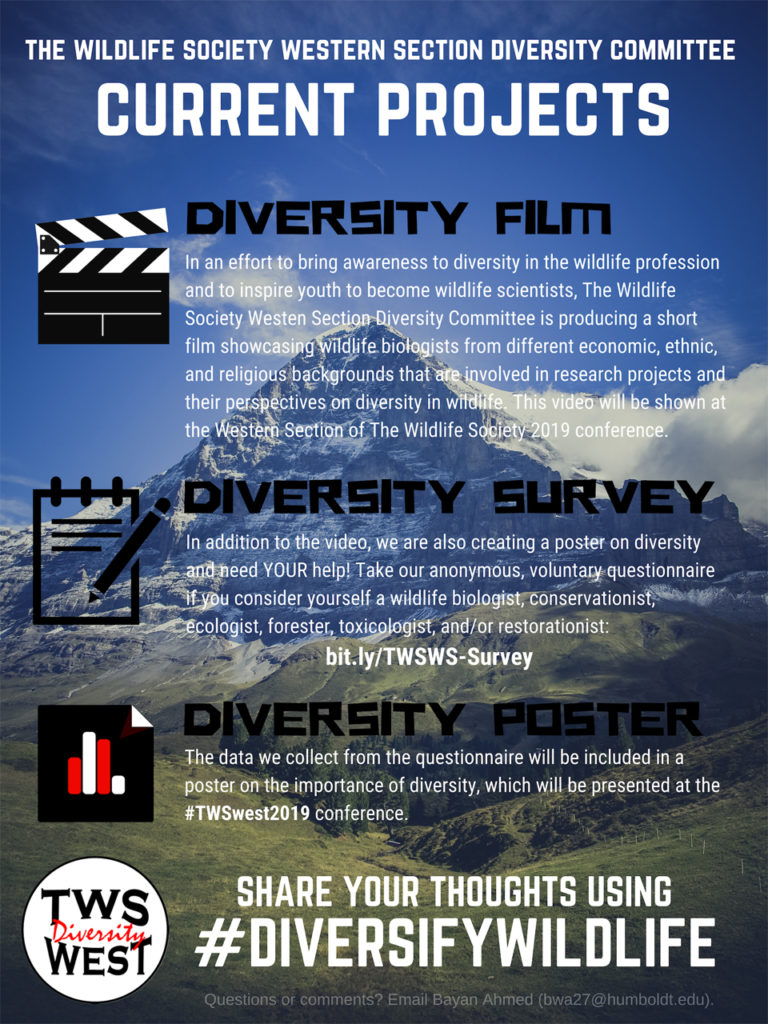 y ethnic and gender composition, but also cultural heritage, life and career experiences, economic backgrounds and abilities. Developing and encouraging a strong, diverse Society is essential to achieving the Society's purpose and goals. The Section is committed to continuing efforts to attract, encourage, and fully develop talent from the full range of our members diverse backgrounds and potentials. The Section recognizes that it is from this increasingly diverse group that the Society's future leaders will come, and we want to support the future of our organization and our field.  We encourage our members and friends to fill out this anonymous questionnaire.  The data we collect from this survey will be included in a poster on the importance of diversity which will be presented at the 2019 TWS-WS Annual Meeting.  Please help us in evolving the field of wildlife sciences.  Link to Questionnaire
---
TWS-WS Supports the 2017 March for Science  "… we believe strongly that engaging and educating the public is core to the public's willingness to accept the science-based recommendations we make about wildlife conservation… Therefore, our membership has voted overwhelmingly to support the March for Science and its goals.