Resource Retreat for Women+ of Wildlife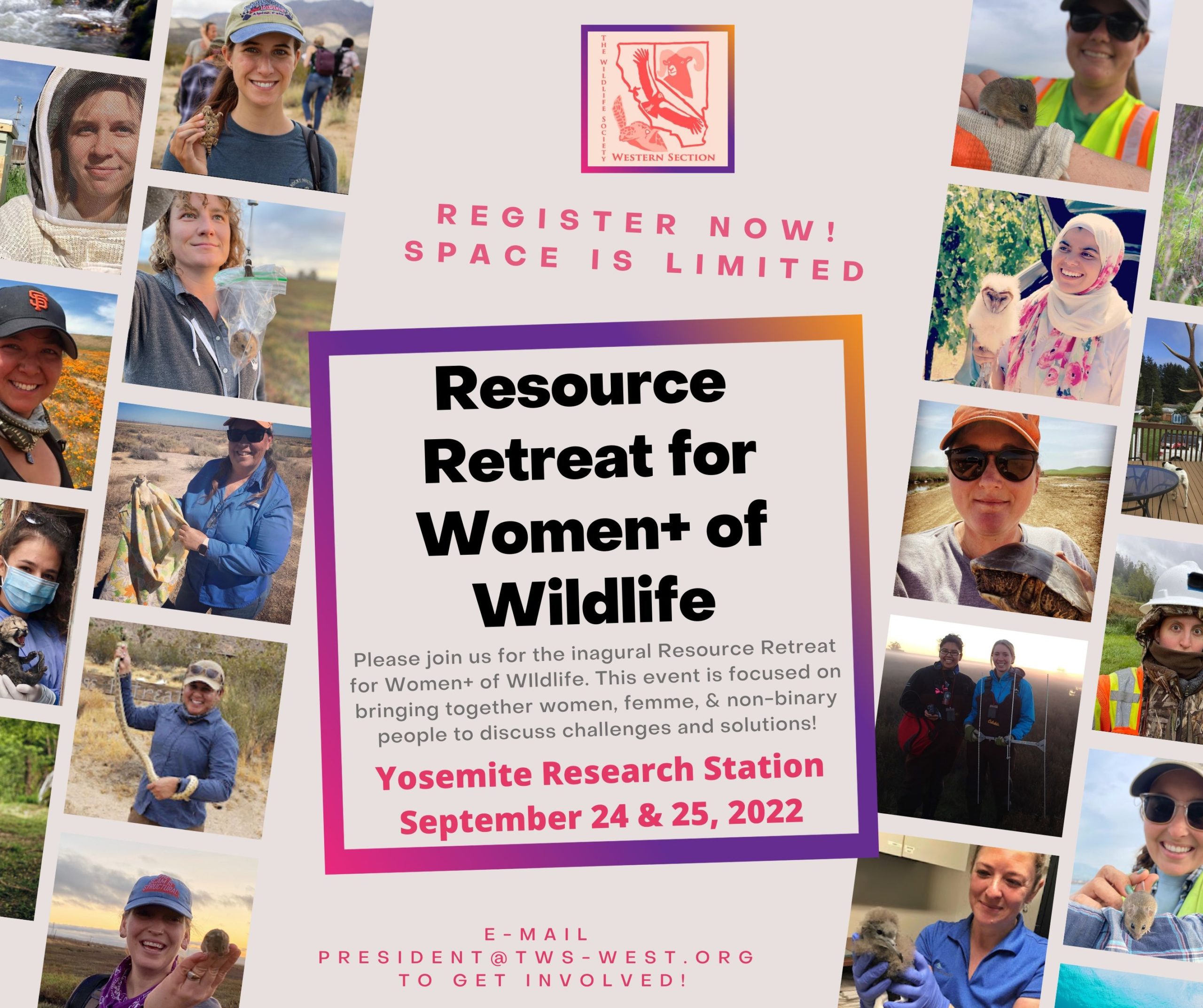 Please join us for the innagural Resource Retreat for Women+ of Wildlife. This event is focused on bringing together women, femme, and non-binary people to discuss some of the particular challenges we face in the field of wildlife.
Link to updated information and detailed agenda.
Participants are invited to join us at the beautiful UC Reserve Field Station at Yosemite for a weekend of sharing, learning, networking, and reflection. Accomodations are historical cabins (Joyce, Landsnaes, and Livingston). The weather should be beautiful so we will try to do as much outdoors as possible!
After arriving on Friday afternoon/evening participants can enjoy a casual hot dinner at their leisure, then socialize with other participants for the rest of the evening. The Landsnaes Cabin will serve as a venue for the evening.
Saturday morning will begin with a cold breakfast and several structured bonding activities that participants can choose from if they wish such as meditation, yoga, or a casual bird walk (TBD based on participants interests). This will be followed by introductions. After that we will have an interactive lecture on Women+ in Leadership, an activity focused on Resources for Success (with lunch!), then more structured bonding time and nature story time. We will then enjoy a catered picnic meal, followed by unstructured socializing until bed.
Sunday morning will also start with cold breakfast and several structured bonding activities, followed by breakout groups for sharing strategies. Lastly we will take some time to Imagine a Better Future for wildlife and for the women+ of wildlife, brainstorming what we want to see and what we need to get there. Folks can then pack a sack lunch and depart on their own adventure in Yosemite for the afternoon!
Location
UC Merced Yosemite Field Station
https://webcamnas.ucnrs.org/YosemiteCam.jpg
 
7799 Chilnualna Falls Rd
Wawona, CA 95389
https://snrs.ucmerced.edu/
Dates

Pre-Retreat Zoom:

September 10, 2022: 1:00-3:00pm

—

Yosemite Field Station:

September 23-25, 2022:  Friday, 4pm to Sunday, 12pm

Everyone is invited to attend the pre-retreat gathering to network, share, and brainstorm discussion topics for the full retreat. This event is free and zoom-based.

Participants are invited to pay what they feel comfortable contributing. The cost of food and lodging will be about $150. Those who register at the Patron rate will support students and early career professionals.

Fees
Student Rate:
$50
 
ECP Rate:
$100
 
Pro Rate:
$150
 
Patron Rate:
$200
| | | |
| --- | --- | --- |
| Tentative Schedule: | Friday: |   |
|   | 4:00-7:00 PM | Casual dinner as attendees arrive. |
|   | 7:00-10:00 PM | Unstructured Bonding |
|   |   |   |
|   | Saturday: |   |
|   | 8:00-9:30 AM | Structured Bonding (bird walk, meditation, yoga, etc) and cold breakfast |
|   | 9:30-10:00 AM | Introductions and Ice Breakers |
|   | 10:00-11:00 AM | Women+ in Leadership – Interactive Lecture |
|   | 11:00-11:30 AM | Coffee Break and Open Reflection |
|   | 11:30-1:00 PM | Resources For Success – Part 1 |
|   | 1:00-1:30 PM | Cold Lunch |
|   | 1:30-3:00 PM | Resources For Success – Part 2 |
|   | 3:00-4:00 PM | Structured Bonding (bird walk, meditation, yoga, etc) |
|   | 4:00-5:00 PM | Nature Story Time |
|   | 5:00-7:00 PM | Catered Dinner |
|   | 7:00-10:00 PM | Unstructured Bonding |
|   |   |   |
|   | Sunday: |   |
|   | 8:00-9:30 AM | Structured Bonding (bird walk, meditation, yoga, etc) and cold breakfast |
|   | 9:30-11:00 AM | Breakout Groups – Sharing Strategies |
|   | 11:00-12:00 PM | Imagining a Better Future – A group brainstorm |