Upcoming Events
---
Annual Meetings
2017 The Wildlife Society Annual Meeting
Albuquerque, New Mexico
September 23-27, 2017
2017 Western Section Annual Meeting
2018 Western Section Annual Meeting
Hyatt Vineyard Creek – Santa Rosa, CA
February 6-9, 2018
---
Western Section Workshops and Events
Check back later!
---
Chapter Events
Central Coast Chapter
December 3
Certified Wildlife Biologist Workshop. Join the California Central Coast Chapter and the Western Section of The Wildlife Society for a Certified Wildlife Biologist Workshop.
Professional Certification is strongly recommended by The Wildlife Society as an indication of an individual's academic record, continuing education, and professional experience.  Certification is looked upon favorably by employers, regulatory agencies and outsiders to our profession.  There are two levels of certification offered by The Wildlife Society: Certified Wildlife Biologist® (generally at least a BS degree and five years of actual experience as a professional biologist) and Associate Wildlife Biologist® (degree, but less experience).  This one day workshop will provide you with the tools and knowledge needed to start the certification process and will include detailed information about recertification and Professional Development Certificates.
When: Saturday, December 3, 2016 9 am to 3 pm. Check-in will begin at 8:30 a.m. and presentations will start at 9:00 a.m.
Where: AECOM Office 130 Robin Hill Road Suite # 100 Goleta, CA (Santa Barbara Area)
Link: http://wildlife.org/cali-centralcoast/workshops
January 12, 2017
Symposium. The California Central Coast Chapter of The Wildlife Society will be hosting a symposium intended to bring local professionals from Monterrey to Santa Barbara Counties together to share ideas, professional knowledge, and information on projects, and/or on-going research.
Call for speakers and posters: Please submit 200 words abstracts for ~20 min presentations topics by December 9th, 2016 to cacentralcoastchaptertws@gmail.com
When: Thursday January 12, 2017, 8:30 am – 4:30 pm
Where: Veterans Memorial Hall, 801 Grand Ave, San Luis Obispo, CA 93401 (Map)
Link: http://wildlife.org/cali-centralcoast/events
Register: Use this on-line Form to register
Sac-Shasta Chapter
December 7
Annual Holiday Mixer. It's that time of year again for our annual holiday mixer with the Superior CA Chapter of the Association of Environmental Professionals & the Sacramento Valley Section of the American Planning Association.
Sac-Shasta Members are free with RSVP by Dec. 2; after Dec 2, cost is $20 for both members and non-members
When: Wednesday December 7, 2016 from 5:30 – 7:30pm
Where: Harlow's in the Momo Lounge located on 2708 J Street, Sacramento (Map)
Link: Holiday Mixer
RSVP here
Southern California Chapter
December 8
Annual Los Angeles County Winter Mixer. Come relax for a couple hours and enjoy local beers and networking with other wildlife biologists.Members and non-members are welcome! Come enjoy frosty libations, tasty food, catch up with friends, network with other wildlife biologists and check out what your local TWS chapter has been up to! Public School 310 is kid-friendly. Light appetizers will be provided!
When: December 8 at 5:00 pm
Where: Public School 310, 9411 Culver Blvd., Culver City, CA 90232 (Map)
Link: http://www.psontap.com
More Information: Please contact Johanna Page
December 15
Annual Holiday Mixer. We are excited to announce our 2nd Annual Holiday Mixer! Both members and non-members are welcome! Come relax for a couple hours and enjoy local beers and networking with other wildlife biologists. Check out the tap room selections. Light appetizers will be provided! Food available for purchase from the Devilicious food truck.
When: December 15, 6:00 – 8:00 pm
Where: Second Chance Beer, 15378 Avenue of Science, #222, San Diego, CA 92128 (Map)
More Information: Please contact Callie Amoaku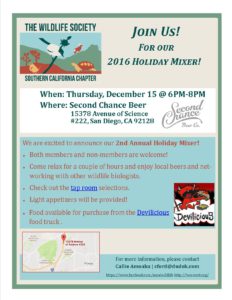 North Coast Chapter
December 9
Winter Mixer and Potluck. In addition to the potluck and culinary cook off and photo contests, elections for the North Coast Chapter board members will also be held. Voting will take place to fill the following positions: President-elect, Treasurer, Membership Chair and Student Representative. Please contact our current Chapter President, Ken Mierzwa, at Ken.Mierzwa@ghd.com for more information about these positions or to nominate candidates.
When: Friday, December 9, 2016 at 6 pm
Where: Korbel Schoolhouse
Link: http://wildlife.org/cncc/news
---
Western Section Board Meetings
February 7, 9am – 4pm, at the 2017 Western Section Annual Meeting
---
Other Workshops/Events
ADVANCED BIRD BANDING WORKSHOP  – The Southern Sierra Research Station is offering an advanced bird banding workshop in the spring of 2017. The workshop will be located in the beautiful Kern River Valley in California. This advanced bird banding class is designed to help participants fine tune the banding skills they already possess and to advance their comprehension of molt strategies and ability to recognize molt limits and plumages on birds in hand. We will spend the morning mist-netting and banding birds, and in the afternoon will have classroom lectures and discussions. The workshop will be between April 10-14, 2017. Workshop cost is $850 with a $150 non-refundable down payment. Housing may be available at an additional cost on a first come, first serve basis. Places are limited so contact us soon (EM: micelleatssrs@gmail.com with name, address, and phone number or visit http://www.southernsierraresearch.org/Workshop/BirdBanding/).
---
The chair of our Professional Development Committee is Jessica Martini-Lamb (jesmartini@hotmail.com)  If you would like more information or if you would like to be a part of the planning of any of these workshops/symposia, contact the individual workshop's organizer. If you would like to see a workshop offered on a particular topic or if you have an idea for a workshop that you would like to facilitate or chair, please contact Jessica.
---
If you are involved with the organization of such activities and would like an announcement posted here, please submit the information to "announcements" at "tws-west" dot "org"