Have you Experienced Last-Minute Loss of Personal or Employer Travel Funding?  TEN Annual Meeting Travel Grants Just Added
The Western Section is providing ten last-minute travel grants for the 2019 Annual Meeting at the Tenya Lodge. Each grant provides up to $400 in reimbursable travel funding (ex. transportation, lodging, meals, etc.) for individuals who are currently registered for the meeting and have experienced last-minute loss of personal or employer travel funding. Applications will be accepted thru February 1 on a first-come, first-served basis.  The TWS-WS Board of Directors has a desire to help federal workers impacted by the Federal Shutdown, but note these grants are not limited to federal workers.
Eligibility:
Current member of the Western Section

Currently registered for the annual meeting in Fish Camp

Have had a last minute loss of personal or employer travel funding and would otherwise not attend the meeting.

Recipients must attend the meeting and submit travel receipts (not exceeding $400) after the meeting.
Welcome to The Western Section of The Wildlife Society
ANNOUNCEMENTS:
---
Join our Email List!   
Sign up HERE to receive email updates about upcoming workshops, trainings and Western Section news…
---
VOTE FOR PRESIDENT-ELECT:
66th ANNUAL MEETING  —  February 4-8, 2019   —  Tenaya Lodge at Yosemite.  Fish Camp, CA.
UPCOMING WORKSHOPS:
DIVERSITY COMMITTEE QUESTIONNAIRE:
The Western Section of the Wildlife Society recognizes that human diversity is an asset, both to the organization and to the field. The diversity committee recognizes that diversity stems from not onl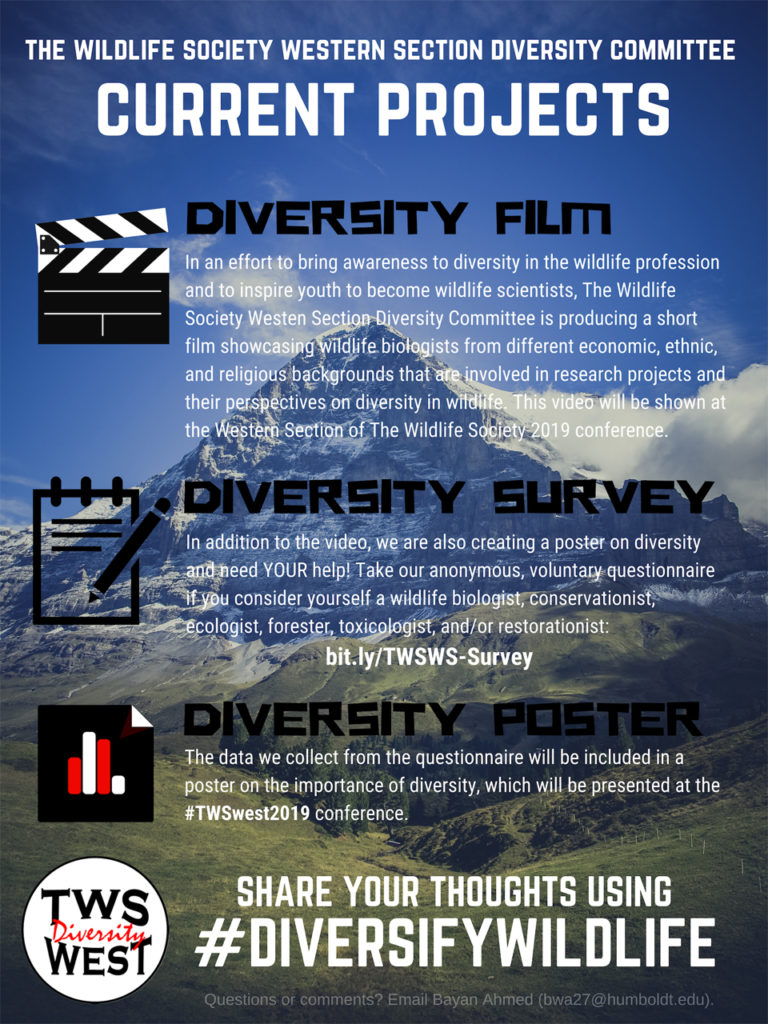 y ethnic and gender composition, but also cultural heritage, life and career experiences, economic backgrounds and abilities. Developing and encouraging a strong, diverse Society is essential to achieving the Society's purpose and goals. The Section is committed to continuing efforts to attract, encourage, and fully develop talent from the full range of our members diverse backgrounds and potentials. The Section recognizes that it is from this increasingly diverse group that the Society's future leaders will come, and we want to support the future of our organization and our field.  We encourage our members and friends to fill out this anonymous questionnaire.  The data we collect from this survey will be included in a poster on the importance of diversity which will be presented at the 2019 TWS-WS Annual Meeting.  Please help us in evolving the field of wildlife sciences.  Link to Questionnaire
---
TWS-WS Supports the 2017 March for Science  "… we believe strongly that engaging and educating the public is core to the public's willingness to accept the science-based recommendations we make about wildlife conservation… Therefore, our membership has voted overwhelmingly to support the March for Science and its goals.