Home Page

Call for Papers – Now Open! 
Link to Call for Papers, Meeting Schedule and More!
---
TWS-WS Events Calendar
Western Section Workshops:
Pleistocene California Workshop. Sept 17-18, 2022. Hemet and Los Angeles. In-person workshop. (Register Here – Link)
Mammal Skulls Workshop. Dec. 4, 2022. Riverside. In-person lab. (Register Here – Link

)
Western Section Annual Meeting & Events:
Resource Retreat for Women+ of Wildlife – September 24-25, 2022. Yosemite Field Station UC Natural Reserve. (Registration opens in August!)  Link to More Info AND Register Here
70th Annual Meeting of TWS-WS – February 7-10, 2023. Riverside Convention Center. Riverside, CA. Link to Call for Papers
Career Builder Workshop Series:
August 18, 2022 – Applying to Grad School
September 22, 2022 – Writing Small Grant Proposals
---
---
Watch our video! 
Meet the Western Section Board – Be Part of Something Wilder!
Link to video on YouTube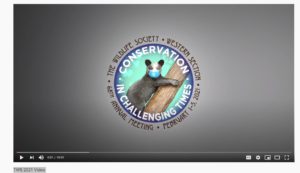 ---
DIVERSITY COMMITTEE FILM: Link to Diversify Wildlife Film  
We started this project because as a group we felt that, while the wildlife field has become increasingly diverse over the past few years, we still have a lot of work to do before we are truly diverse and inclusive. Our goal for this film is to show varying perspectives that people have on the wildlife field and the role that diversity plays within it. At the same time, we want to inspire youth to get involved in the wildlife sciences. We want aspiring scientists to be able to watch this film, see themselves potentially doing fieldwork, and be interested in environmental and wildlife issues. For this reason, we thought it would be a great idea to show what people are working on and the interesting wildlife species that they are working with. Our film showcases undergraduate students, graduate students, and professional biologists who represent different ages, genders, ethnicities, and life experiences. They also come from different backgrounds and have varied interests in the wildlife field, such as hunting, citizen science, field research, and public outreach or education. But they are all wildlife biologists, and are all passionate about helping the environment and diversifying the wildlife community.
---
Join the

Western Section of The Wildlife Society

Email List!