Home Page
About TWS-WS:  The Western Section of The Wildlife Society is a non-profit 501(c)3 scientific and educational association dedicated to excellence in wildlife stewardship through science and education. Our mission is to enhance the ability of wildlife professionals and wildlife students to conserve diversity, sustain productivity, and ensure responsible use of wildlife resources and their habitats. 
The Western Section of The Wildlife Society is composed of over 1,000 wildlife managers, biologists, ecologists, and students from California, Nevada, Hawaii, and Guam all devoted to the sustainable conservation of wildlife in the western United States region.
TWS-WS Events Calendar
Career Builder Workshop Series – Monthly, Virtual, Free! Link to more information


Board of Directors Meeting

, September 22-24, 2023.  Cambria, CA.
Resource Retreat for Women+ of Wildlife – September 29 – October 1, 2023. McLaughlin Reserve in Lake County. Flier here.
California Condors – October 7-11, 2023 in California. Flier here.
Mid-Year Mingle & Symposium – October 19-20 evenings & October 22 morning, 2023; Virtual. FREE!  Flier and Call for Papers here.
Drones for Wildlifers – October 25-27, 2023 in Hawaii.  Flier here.
ADVANCEGeo Bystander Intervention Workshop – November 2, 2023 (5:30-8:30pm). Virtual Flier here.
Vernal Pool Branchiopods – January 22-27, 2024 in California. 

Flier here.

71st Annual Meeting of TWS-WS, February 5-9, 2024. Sonoma Doubletree, CA.  Save the Date!

Call for Papers Now Open 

Flier here.
Hawaii Forest Birds – February 16-18, 2024 in Hawaii
---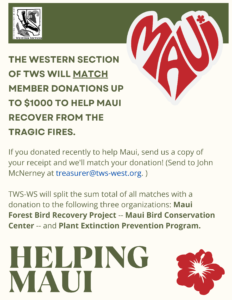 Maui Fire Relief – TWS-WS will match your donation — The Western Section of TWS stands with Maui, and we are sending a $500 donation each to the Maui Forest Bird Recovery Project AND the Maui Bird Conservation Center so they can continue their good work to save Hawaii's endangered birds as we have learned about as part of the Plenary programs at our past two Annual Meetings. The Maui fires are incomprehensible and we want to help these great organizations recover from the fire tragedy so they can get back to their important conservation efforts.  
Additionally, the Western Section would like to Match YOUR donation to Maui organizations to help them rebuild from the fire. If you donated recently to help Maui, send us a copy of your receipt and we'll match your donation! Email a copy to John McNerney at treasurer@tws-west.org. TWS-WS will split the sum total of all your matches (up to $1000) to the following three organizations: Maui Forest Bird Recovery Project — Maui Bird Conservation Center — and Plant Extinction Prevention Program.  Link to ways to help Maui from the Hawaii Chapter of TWS
---
Watch our video! 
Meet the Western Section Board – Be Part of Something Wilder!
Link to video on YouTube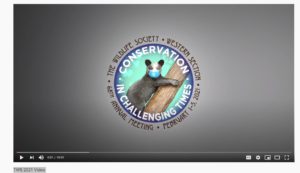 ---
DIVERSITY COMMITTEE FILM: Link to Diversify Wildlife Film  
We started this project because as a group we felt that, while the wildlife field has become increasingly diverse over the past few years, we still have a lot of work to do before we are truly diverse and inclusive. Our goal for this film is to show varying perspectives that people have on the wildlife field and the role that diversity plays within it. At the same time, we want to inspire youth to get involved in the wildlife sciences. We want aspiring scientists to be able to watch this film, see themselves potentially doing fieldwork, and be interested in environmental and wildlife issues. For this reason, we thought it would be a great idea to show what people are working on and the interesting wildlife species that they are working with. Our film showcases undergraduate students, graduate students, and professional biologists who represent different ages, genders, ethnicities, and life experiences. They also come from different backgrounds and have varied interests in the wildlife field, such as hunting, citizen science, field research, and public outreach or education. But they are all wildlife biologists, and are all passionate about helping the environment and diversifying the wildlife community.
---
Join the

Western Section of The Wildlife Society

Email List!
For Email Marketing you can tr
 Hawai-0ADInt