Home Page
About TWS-WS:  The Western Section of The Wildlife Society is a non-profit 501(c)3 scientific and educational association dedicated to excellence in wildlife stewardship through science and education. Our mission is to enhance the ability of wildlife professionals and wildlife students to conserve diversity, sustain productivity, and ensure responsible use of wildlife resources and their habitats. 
The Western Section of The Wildlife Society is composed of over 1,000 wildlife managers, biologists, ecologists, and students from California, Nevada, Hawaii, and Guam all devoted to the sustainable conservation of wildlife in the western United States region.
TWS-WS Events Calendar
Career Builder Workshop Series – Monthly, Virtual, Free! Link to more information
Vernal Pool Branchiopods – January 22-27, 2024 in California. 

Flier here.

71st Annual Meeting of TWS-WS, February 5-9, 2024. Sonoma Doubletree, CA.  Save the Date! Link to Meeting Website
Hawaii Forest Birds – February 16-18, 2024 in Hawaii
---
2024 TWSWS Election
---
A heartfelt thank you to all the members who participated in the Western Section's Maui Relief Matching Donation program. Over $3,000 in donations were made to various organizations working to rebuild and support the Maui community. The Western Section is proudly responding to the action by donating an additional $1k to support the Maui Forest Bird Recovery Project, Maui Bird Conservation Center, and Plant Extinction Prevention Program.
---
Watch our video! 
Meet the Western Section Board – Be Part of Something Wilder!
Link to video on YouTube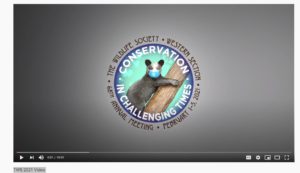 ---
DIVERSITY COMMITTEE FILM: Link to Diversify Wildlife Film  
We started this project because as a group we felt that, while the wildlife field has become increasingly diverse over the past few years, we still have a lot of work to do before we are truly diverse and inclusive. Our goal for this film is to show varying perspectives that people have on the wildlife field and the role that diversity plays within it. At the same time, we want to inspire youth to get involved in the wildlife sciences. We want aspiring scientists to be able to watch this film, see themselves potentially doing fieldwork, and be interested in environmental and wildlife issues. For this reason, we thought it would be a great idea to show what people are working on and the interesting wildlife species that they are working with. Our film showcases undergraduate students, graduate students, and professional biologists who represent different ages, genders, ethnicities, and life experiences. They also come from different backgrounds and have varied interests in the wildlife field, such as hunting, citizen science, field research, and public outreach or education. But they are all wildlife biologists, and are all passionate about helping the environment and diversifying the wildlife community.
---
Join the

Western Section of The Wildlife Society

Email List!
For Email Marketing you can tr
 Hawai-0ADIn