2023 Awards
2023 Award Recipients
The following awards were presented at the TWS-WS Members' Townhall on Thursday February 09, 2023, by TWS-WS President Katie Smith.
---
Chapter of the Year Award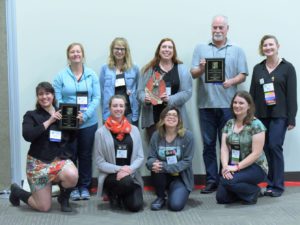 Congratulations to the 2023 Chapters of the Year, the Southern California Chapter and Sacramento-Shasta Chapter. These Chapters had a busy year even with the ongoing pandemic.
The Sacramento-Shasta relaunched in-person events and conducted 11 Sac-Shasta Board meetings. They offered five in-person events and are planning a purple martin workshop in 2023. They continue to support students and young professionals through grant and scholarship programs by awarding a $1,500 a student research scholarship. They also offered four one-time grants to BIPOC early career professionals and students for the purchase of field gear. The Chapter Received a diversity, equity, and inclusion (DEI) grand of $1,000 to fund two BIPOC gear grants.
The southern California Chapter continued their monthly Third Thursday Thing (Talks, Theater, etc.) and periodically held in person outdoor events such as a Salton Sea Winter Birding Field Trip, an in-person student/professional mixer and two winter mixers for networking and socialization of their Chapter members. They awarded three early career professionals with registration + travel costs (totaling $2917) to TWS-WS 1023 conference. The Chapter created and kicked off a mentorship program in April 2022. The mission of the program is to connect students and young professionals who have an interest in the environmental field with seasoned and experienced wildlife professionals who can help support and navigate the job application and job acquisition process. So far, they have paired 4 mentors and 4 mentees.
---
Conservationist of the Year Award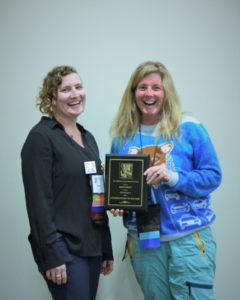 The Conservationist of the Year Award went to Beth Pratt. Beth has worked in environmental leadership roles for over 25 years, in two of the country's largest national parks: Yosemite and Yellowstone. Before joining the National Wildlife Federation, she worked on sustainability and climate change programs for Xanterra Parks & Resorts in Yellowstone as its Director of Environmental Affairs. Prior to her role in Yellowstone, for nine years Beth served as the Vice President/CFO for the non-profit Yosemite Association (now Yosemite Conservancy) in Yosemite National Park. She currently serves on the board of the non-profits Outdoor Afro and Save the Frogs. She led the collaborative campaign to build the Wallis Annenberg Liberty Canyon Wildlife Crossing over one of the busiest freeways (US-101) in the country. This new crossing will greatly assist in gene flow to an isolated population of mountain lion.
---
Barrett A. Garrison "Outstanding Mentor Award"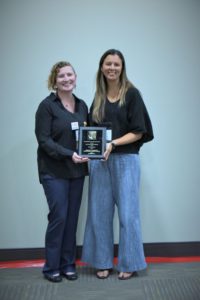 The "Barrett A. Garrison Outstanding Mentor Award" was bestowed to Dr. Melissa Price. Dr. Price has been an assistant professor at the University of Hawai'i at Mānoa since 2015. She developed a research program focusing on Wildlife Ecology and Management, drawing from disciplines including behavioral ecology, molecular ecology, and decision analysis. Dr. Price has, at every chance, taken the initiative and actively provided her students with carrier advice, academic feedback, and networking opportunities. She encourages them us to collaborate and reach out to other researchers and to collaborate and assist each other with their own projects. She cares about their well-being and believes and pushes all her students to be the best version of themselves.
---
James D. Yoakum Award for Outstanding Service and Commitment to The Western Section of The Wildlife Society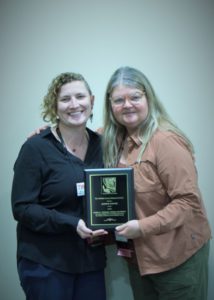 Janine Payne was the recipient of this year's James Yoakum Award for Outstanding Service. Janine has been a continuous member of TWS-WS since 2008 and went to her first annual meeting in 2010 and has not missed one since. Janine has been a major leader within the Western Section since she became a member and her leadership roles include TWS-WS Secretary from 2010 – 2014, SF Bay Chapter PDC Chair from 2015 – 2017, TWS-WS Bay Area Chapter Rep from 2017 – 2018, and TWS-WS PCD Chair since 2018. Her other regular obligations have included annual meeting registrar, annual meeting photographer, social media team and workshop coordinator and numerous ad hoc committees as well. She makes a point to attend all board meetings and planning committee meetings and even runs a monthly meeting for PDC. She's a good friend to all of us and her smile lights up the room.
---
Raymond F. Dasmann "Professional of the Year Award"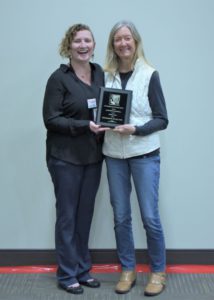 The Dasmann Award was presented to Kathryn Purcell for her outstanding contribution to wildlife resources management and understanding in the Sierra Nevada for over 25 yrs. Her work has examined variability in avian abundance and reproductive success in diverse Sierra Nevada habitats, identifying source and sink habitats, and examining elevational shifts in abundance, especially as they relate to weather conditions. Kathryn has been the principal investigator for the Kings River Fisher Project and Sugar Pine Fisher Project identifying and filling gaps in our current understanding of fisher ecology and habitat requirements and addressing the uncertainty surrounding the effects of timber harvest and fuels treatments on select response variables. Additional research includes implementation of avian monitoring techniques, avian response to climate change, and the effects of the invasive European starlings on native cavity-nesting birds, and use of upland habitat by western pond turtles and mitigation of potential conflicts with livestock grazing.
---
TWS Fellows Award Recipient
John McNerney
The following TWS-WS member received a past-president's pin for service to the Western Section:
Dan Airola, Past-President 2022
The following TWS-WS members received plaques for their service to the Western Section:
Katie Smith, President 2022
Randi McCormick, President-Elect 2022
Bayan Ahmed, Diversity Committee chair 2019-2023
ORAL PRESENTATION:
1st: Jaran Hopkins
Detecting and Monitoring Rodents Using Camera Traps and Machine Learning Versus Live Trapping for Occupancy Modeling
2nd: Keyanna Pinto
Effect of Radio-Transmitter Collar Color on Predation Probability in Endangered Blunt-Nosed Leopard Lizards (Gambelia sila) in the Panoche Plateau
2nd: Marissa Rykowski
Changing Sex Ratios Due to Global Warming for the Northwest Atlantic Loggerhead Sea Turtle Population
3rd: Ian Axsom
Spatial Distribution of Temperatures Linked to an Ectotherm's Thermoregulation and Movement
POSTER:
1st: Tess McIntyre
Watery Going To Do About Drought Impacts on Lizards?: Osmoregulation of Blunt-Nosed Leopard Lizards
2nd: Sophie Preckler-Quisquater
Preliminary Comparison of Genetic Diversity in the Endangered San Joaquin Kit Fox (Vulpes macrotis mutica) Before Versus After a Mange Outbreak
3rd: Tali Caspi
DNA Metabarcoding Identifies Urban Dietary Patterns of Coyotes in San Francisco