Bat Ecology & Field Techniques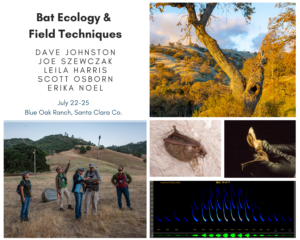 This workshop combines lecture, discussion, and field exercises to introduce participants to the ecology and conservation of California bats. It covers species accounts, physiology, anatomy, behavioral ecology, conservation issues, and mitigation strategies. Participants will gain hands-on experience in field techniques including mist-netting, assessing species presence or absence, and acoustic monitoring & analysis. Evening field excursions typically capture a half dozen bat species and, for those who have proof of current rabies vaccination, allow practice in extracting and handling.
Dates: July 22-25, 2022
Blue Oak Ranch, Santa Clara Co.