2023 Election
This year, there are three candidates for President-Elect:
Brooke Langle
Carolyn Buesch
Debie Montana
Read their candidate statements below, then place your vote via this online ballot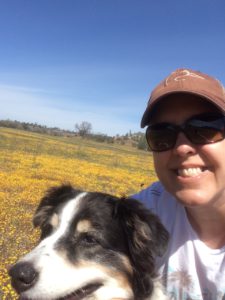 Brooke Langle:  Hello! My name is Brooke Langle and I'm running for President-elect of the TWS-Western Section. I'm providing some of my experience along with why I've opted to run for this term for your consideration.
I've been a member of the TWS-Western Section for over two decades and served as the Central Coast Chapter President for four years. Additionally, I served on the board of trustees for The Land Conservancy of San Luis Obispo County for eight years, with two of those as vice president and an additional two as president. I have worked in environmental consulting for over 27 years, founding Terra Verde Environmental Consulting 16 years ago. Over the last 13 years, I've had the honor of teaching at Cal Poly San Luis Obispo as a part-time lecturer. I helped create their wetlands course, taught an ecology lab, and most recently taught an environmental leadership and community engagement course as well as a course designed to help environmental management students prepare for their careers. I will bring this experience to serve our membership should I be elected.
With those facts out of the way, I will tell you that I'm running because I believe strongly in the concepts of servant leadership and community engagement – with the main goal to be of service to our membership. I have benefitted personally and professionally from those who have organized and managed TWS-Western Section all these years and I am grateful for their time and dedication. And now it's my turn to engage!  We face a multitude of challenges as wildlife professionals and these challenges will continue to morph and become more daunting in the face of a rapidly changing climate. We will need to continue to grow, innovate, share information, and most importantly, support each other as we navigate what the future holds. I see this organization as a critical source of that connection.
Specifically, I will continue the work of helping to support and engage student and early career wildlifers, I will work collaboratively with the board to move the organization forward, and I will work diligently on the beloved Western Section Annual Conference 2024! And of course, I will listen to what you need from the Western Section and do my best to address those needs. Thank you for your consideration!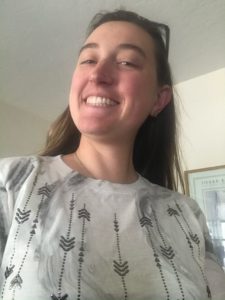 Carolyn Buesch:  My name is Carolyn and I have been a member of the Western Section since 2019. I graduated from Humboldt State University in 2016 with a B.S. in Wildlife Management and Conservation. I have worked for three different government agencies as a seasonal technician. I am currently an Environmental Scientist for CDFW, a local representative of the California Association of Professional Scientists union (CAPS), and Social Media chair for the Sacramento-Shasta Chapter. I volunteer for Shasta Wildlife Rescue and Rehabilitation and the Conservation Unlimited Alumni Association (CUAA). I have two indoor cats and love to quilt, embroider, and hike.
My vision for the Western Section is to continue creating safe spaces for members to grow and develop professionally. I want to represent and stand with the upcoming generation of wildlife biologists as president of the Western section. If elected, I will prioritize the following:
Pay equity and affordable living wages
Field and office safety
Mental health support
I will support groups fighting for scientist pay equity, create a bystander intervention-based safety training, and spread awareness about the resources available for mental health for wildlife biologists. I want Western Section members to feel supported and know what resources are available to them.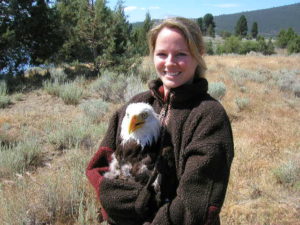 Debie Montana:  I am honored to introduce myself to the members of the Society and present myself as a candidate for President of the Western Section of The Wildlife Society. I'm a graduate of San Jose State University, where I received both a bachelor's and a master's in Biological Sciences with a concentration in Organismal Biology, Conservation, and Ecology. I worked on two theses for my master's degree. The first was genetic analysis on the mycorrhizal fungi, comparing phenotypes and genotypes of fungi found in thermal soils and burned areas in Yellowstone National Park for NASA Ames Research Center. The second thesis was researching the most effective way to reseed areas that had been rooted by feral pigs to discourage invasive and noxious weeds on Midpeninsula Regional Open Space District lands. I'm going to be honest and humble here: I was on the 10-year college plan. I put myself through school, which meant not being able to take full-load semesters because I was also waiting tables every night to pay the rent and tuition. For this reason, I was also not a straight-A student. However, I also volunteered in the population genetics lab at San Jose State under Dr. Chris Brinegar, comparing the genetics of Coast Redwoods on east- and west-facing slopes and burned/unburned areas in the Santa Cruz Mountains. Dr. Brinegar came to realize my passion for population genetics and conservation, and ultimately took me on as his graduate student, regardless of my mediocre GPA. To this day, I owe a great deal of my success as a biologist and consultant, and as a person, to the professor who took a chance on me. He believed in me and recognized my potential, and ultimately helped me to follow opportunities I wouldn't have otherwise had. He changed the course of my career and instilled in me the ability to believe in myself. 
After college, I participated in a 3-month internship through the University of Montana Cooperative Wildlife Unit, living in a tent on the Mogollon Rim while studying the nesting energetics of the red-faced warbler. During this time, I had a realization that changed my career path. I had to be in the field, where I felt at home. I worked as a seasonal field biologist at a local consulting firm conducting burrowing owl and nesting bird surveys, before joining the Santa Clara Valley Water District where I learned how to conduct reservoir profiling, California red-legged frog surveys, and so much more. Eventually, through networking, I found an opportunity at PG&E. I was hired as a biologist, and within two months I was in the Sierras collecting data on riparian response to fluctuating river flows. I was riding in helicopters, leading a crew of three other scientists, wading in rivers, I was in heaven! I'd found my happy place. And I was getting paid to do it! I spent 8 years at PG&E, performing every type of biological study I ever dreamed of, with the pinnacle of my experience there being the moment I caught a wild bald eagle and held it while we took various measurements before releasing her back into the wild. She fell asleep in my arms, and that was it. I was convinced it would never get better than THAT! 
After leaving PG&E, I worked for an engineering company that wanted to build their biological services. I found that building a team and business relationships of my own within the biological consulting field was the perfect complement to my passions and strengths. One year later, I started Sequoia Ecological Consulting, Inc. with my husband, who was a Captain in the fire department at the time. We started with four employees and provided health benefits and a 401k. We had no funding, no loans, and put our entire savings and retirement on the line. It was terrifying, exhilarating, and fulfilling! 
That was 2011. Since then, Sequoia has grown from 4 employees to over 50, and we continue to grow in number of employees and expand our services and geographic range. At Sequoia, I have the opportunity to mentor and empower biologists who are often still discovering their own passions and strengths. It's important to me to empower our employees to develop and drive initiatives, such as SCEID, Sequoia's Coalition for Equity, Inclusion and Diversity, created and led by our employees, to ensure Sequoia provides a safe and nourishing working environment where diverse perspectives come together to create something greater than the sum of its parts. I also lead change management as our steady and exponential growth continues to create exciting and interesting challenges for Sequoia in maintaining our culture of professional development and collaboration.  
What I enjoy most about my role at Sequoia is pursuing work that is meaningful to our staff, gives back to our communities, and continues to protect and conserve our precious open spaces, such as restoration, mitigation banking and green energy projects. Nothing feels better than watching our staff experience fulfilling work in the Sierras, riding in a helicopter for the first time while they conduct bald eagle surveys or seeing salmon returning to creeks where we've been working to restore habitat for the past two years.  
 My strengths, both as a person and a business owner, include empathy, seeing the potential in even the greenest biologist, and implementing daring and exciting ideas. I am excited to contribute these strengths to continue building upon the curriculum, outreach, and opportunities The Wildlife Society contributes, and help pass the torch to the future generations of passionate members. The position of President can be pivotal in shaping the Society's direction. My responsibilities, if I were to become the next President of the Western Section, will be to represent Society members' vision and needs as we usher our organization into a bright future. I would begin by polling our members to hear what YOU need, what opportunities you would like us to provide, and what your ideas are for continuing to create a Society where everyone feels included, heard, and supported, both personally and professionally. We have some very challenging times ahead of us, politically as it relates to regulations, and with regards to climate change and social justice. We can only meet these challenges if we are sharing the same vision for the Society. My commitment to our members is that I can drive that change, if you tell me what direction you want to travel.  
I hope this profile gives you a better idea of my background, who I am, and the perspective I will bring to this role. Please don't hesitate to pick up the phone and reach out if you'd like to ask me questions or talk about ideas. I hope you'll consider voting for me for President of the Western Section, but regardless of your vote, please come by our booth, say "Hello", and let's share ideas at the conference in February. I can't wait to meet you!