Interest-Based Negotiation Workshop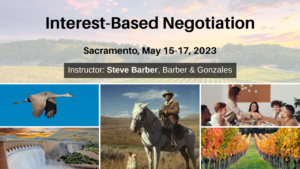 Dates: May 15-17, 2022
The interest-based negotiation model has been used worldwide to solve disputes, strengthen teams, and help multi-interest stakeholders come to agreements. Steve Barber is custom-designing his famous workshop – used with politicians and business leaders – for application to consulting biologists, agency staff, and any professionals trying to negotiate land and resource management.
In this 3-day workshop, you'll learn interactive exercises and simulations to provide you the tools, techniques, and principles for mastering successful negotiations. We'll explore real-life applications and meet real-life stakeholders, land-owners, and regulators.
Note: Due to the generosity of Mr. Barber, this rare opportunity is being offered at a fraction of its normal cost.